'Raise the Age' means no more 16-year-olds in jail as adults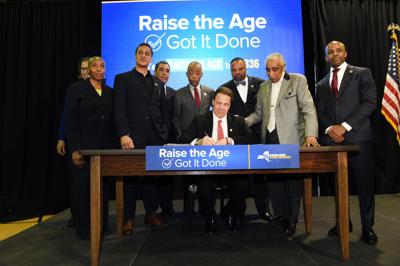 OLEAN — Since last year when New York state legislators passed a law so 16-year-olds would no longer be treated as adults in the state's justice system, local officials said they haven't had a case that was affected by the measure.
Raise the Age, as the initiative is referred to, requires an end to housing 16-year-olds in county jails. Instead, the youths will be given appearance tickets.
It was signed by Gov. Andrew Cuomo as part of the state budget and went into effect on Oct. 1.
Working together over the past year, several Cattaraugus County departments have designed a program to divert 16-year-olds from the criminal justice system, Social Services Commissioner Anthony Turano said. Specialized, secure detention facilities have been established for 16-year-olds for criminal cases where alternative monitoring is not recommended.
Cattaraugus County is part of an 11-county consortium to create secure detention facilities for the teens, Turano said.
"We haven't had any case of a 16-year-old being arrested since this went into effect," Turano said, adding there are no county residents in the special secure detention for 16-year-olds.
Housing close to home and family is the objective of the specialized secure facilities, Turano said. "We're working to keep kids as close to home as possible."
Buffalo and Rochester area youth facilities are being expanded due to Raise the Age and may have room for the occasional 16-year-old from this county.
The changes resulting from the new program involve how 16-year-olds are processed by law enforcement officers making arrests, how the courts handle the cases and where they are housed if sentenced.
"They can't go to the county jail," Turano said. "At the Department of Social Services, we're responsible for finding diversion programs for these youths, to work to reduce placement and reduce time in placement."
Turano said Cattaraugus County is in a better position to respond because of how it has been dealing with 13- to 15-year-olds. "We really have a model program to deal with juvenile justice," he explained.
A collaborative group consisting of representatives from the Youth Bureau, Community Services, Probation, Social Services and CAReS review cases involving youths to look whether they need to go on to Family Court or can be diverted to other programs.
A special juvenile unit in the probation department monitors the program.
"We're fortunate to have a true model program with the collaboration of all those agencies," Turano said. The model will help the county meet its obligations to 16-year-olds under the Raise the Age initiative.
The collaboration extends to law enforcement and the courts. "It's designed to keep kids out of detention and we try to shorten their stays. I haven't seen a case where we can't meet the needs. We're ahead of the curve."
County Administrator Jack Searles has kept the issue on the front burner, encouraging departments to embrace Raise the Age, Turano said.
In October 2019, Raise the Age will extend to 17-year-olds, and planning is already underway for that, he said. "We'll be phasing it in under the same requirements."